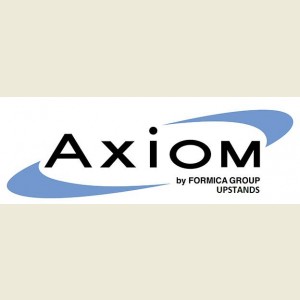 Clovelly's No.1 Supplier of Axiom Upstands
Axiom Upstands Clovelly
The flagship range of worktop upstands from Formica, the UK's premier manufacturer of high pressure laminate products is the Axiom upstand collection, featuring over 50 designer upstands in a range of finishes including matt, gloss, and 3D textured finishes that enhance the realistic reproductions, of stone and wood at a fraction of the price of the real thing. We supply the full range of Axiom upstands to Clovelly and surrounding areas.
Why Choose Axiom Upstands?
Axiom kitchen upstands are manufactured with an exclusive range of Formica laminate sheets, they have been carefully chosen and matched with a surface treatment that compliments the decor. Choose from a range of stone reproductions including granite, marble, and man-made finishes such as concrete. The wood-grain patterns of the Axiom upstand collection will appeal to those that prefer the warmer tones of timber reproductions, and the state-of-the-art 3D surface treatments will only enhance the natural appeal.
Axiom Woodgrain Upstand Finishes
This next generation of Axiom upstands feature a range of 3D surface treatments that have been created and developed to enhance not only the look, but also the tactile feel of natural timber. The standard matte-58 finish has been further developed to include; Woodland smooth open-grain matt surface, Puregrain wood-grained matt surface.
Axiom Mineral Upstand Finishes
The mineral and stone decors feature a range of 3D textured surface treatments such as Scovato that emulates the subtle highs and lows of beautifully hewn stone, Lustre that brings an element of sparkle to your kitchen, Etchings that replicates the surface detailing of granite, and the timeless appeal of high gloss, and the True-Scale large pattern format that offers less repetition than traditional laminates.
Axiom Worktop Collection Clovelly

The Axiom Worktop Collection is complimented
with the following design options.
Avalon Granite Black Matt Upstand 4m x 100mm Avalon Granite Black up-stand is manufactured with genuine Formica laminate, with a finely textured matt finish that compliments the natural granite reproduction and provides market leading wear and scuff resista...

Our Price: £108.00 inc. VAT Quick Ref No. 66012

Brushed Concrete Upstand 4.1m x 100mm Brushed Concrete up-stand is manufactured with genuine Formica laminate, with a finely textured matt finish that compliments the brushed concrete reproduction, providing a hygienic and easy to clean surface at a fractio...

Our Price: £108.00 inc. VAT Quick Ref No. 66023

Citrine Upstand 3.6m x 100mm Citrine upstand is manufactured with genuine Formica laminate Lustre (LUS) 3D quartz crystal textured surface finish, that recreates the subtle optical effect of translucent weathered quartz stone with the market leading wear an...

Our Price: £120.00 inc. VAT Quick Ref No. 14883

Padua Oak Upstand 4m x 100mm Padua Oak upstand is manufactured with genuine Formica Lumber (LBR) weathered-grain highlighted 3D textured matt finish laminate, that enhances the medium oak reproduction with its subtle tactile weathered grained surface textur...

Our Price: £108.00 inc. VAT Quick Ref No. 14915

Paloma Black Upstand 4m x 100mm Paloma Black up-stand is manufactured with genuine Formica laminate, with a finely textured matt finish that compliments the conglomerate stone reproduction and provides market leading wear and scuff resistance. Paloma Black ...

Our Price: £108.00 inc. VAT Quick Ref No. 66029

Paloma Cream Upstand 4.1m x 100mm Paloma Cream up-stand is manufactured with genuine Formica laminate, with a finely textured matt finish that compliments the conglomerate stone reproduction and provides market leading wear and scuff resistance. Paloma Crea...

Our Price: £108.00 inc. VAT Quick Ref No. 66035

Paloma Dark Grey Upstand 4.1m x 100mm Paloma Dark Grey up-stand is manufactured with genuine Formica laminate, with a finely textured matt finish that compliments the conglomerate stone reproduction and provides market leading wear and scuff resistance. Pal...

Our Price: £108.00 inc. VAT Quick Ref No. 66053

Paloma Light Grey Upstand 4.1m x 100mm Paloma Light Grey up-stand is manufactured with genuine Formica laminate, with a finely textured matt finish that compliments the conglomerate stone reproduction and provides market leading wear and scuff resistance. P...

Our Price: £108.00 inc. VAT Quick Ref No. 66047

Paloma White Upstand 4m x 100mm Paloma White up-stand is manufactured with genuine Formica laminate, with a finely textured matt finish that compliments the conglomerate stone reproduction and provides market leading wear and scuff resistance. Paloma White ...

Our Price: £108.00 inc. VAT Quick Ref No. 66041

Platinum White Upstand 3.6m x 100mm Platinum White upstand is manufactured with genuine Formica laminate Lustre (LUS) 3D quartz crystal textured surface finish, that recreates the subtle optical effect of translucent weathered quartz stone with the market l...

Our Price: £134.40 inc. VAT Quick Ref No. 68336

Shadow Oak Upstand 3.6m x 100mm Shadow Oak upstand is manufactured with genuine Formica laminate, with the Puregrain (PGN) 3D wood-grain textured matt finish that compliments the realistic oak reproduction with its tactile grained surface texture while stil...

Our Price: £120.00 inc. VAT Quick Ref No. 66096

Walnut Butcher Block Upstand 4m x 100mm Walnut Butcher Block upstand is manufactured with genuine Formica Woodland (WLD) open-grain 3D textured matt finish, that compliments the realistic walnut block reproduction with its subtle open-grained surface textur...

Our Price: £108.00 inc. VAT Quick Ref No. 13937

Carnaval Axiom® Upstand 3m.

Carnaval Axiom® Upstands with a high gloss finish benefits from the latest developments in high gloss laminate having unique AR Plus technology which provides market leading protection, and enhanced wear and scuff resistan...

Our Price: £67.63 inc. VAT Quick Ref No. 14809