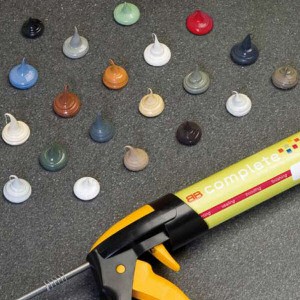 Bushboards Worksurface Colour Sealant
Bushboards solution for worksurface bonding and joining is the brand new range of Complete colour sealant which can be used to bond joints together, seal cut-outs around the sink, as well as finish and seam worktops, splashbacks and upstands.

Complete jointing adhesive is available in multiple colours to blend with over 100 worktop decors from bushboards range of worksurfaces. Complete sealant is available as a standard 290ml (C90) cartridge to fit any standard caulking/sealant gun.

Bushboard Complete joining compound is an all in one, colour coded range of laminate worktop sealant, each cartridge includes a screw on nozzle and cap closure to enable storage and re-use.



Next Page

Airforce Blue Complete Adhesive Bushboards Airforce Blue jointing compound is the new solution to worksurface jointing, designed to bond joints, mount and seam worktops, splashbacks, upstands and to seal cut-outs. Colour matched to suit Bushboards Prima, Ome...

Our Price: £27.25 inc. VAT Quick Ref No. 57104

Aqua Complete Adhesive Bushboards Aqua jointing compound is the new solution to worksurface jointing, designed to bond joints, mount and seam worktops, splashbacks, upstands and to seal cut-outs. Colour matched to suit Bushboards Prima, Omega, Nuance and Ody...

Our Price: £27.25 inc. VAT Quick Ref No. 59221

Ash Grey Complete Adhesive Bushboards Ash Grey jointing compound is the new solution to worksurface jointing, designed to bond joints, mount and seam worktops, splashbacks, upstands and to seal cut-outs. Colour matched to suit Bushboards Prima, Omega and Ody...

Our Price: £27.25 inc. VAT Quick Ref No. 57090

Basalt Grey Complete Adhesive Bushboards Basalt Grey jointing compound is the new solution to worksurface jointing, designed to bond joints, mount and seam worktops, splashbacks upstands and to seal cut-outs. Colour matched to suit Bushboards Prima, Omega an...

Our Price: £27.25 inc. VAT Quick Ref No. 57088

Blush Pink Complete Adhesive Bushboards Blush Pink jointing compound is the new solution to worksurface jointing, designed to bond joints, mount and seam worktops, splashbacks, upstands and to seal cut-outs. Colour matched to suit Bushboards Prima, Omega, Nu...

Our Price: £27.25 inc. VAT Quick Ref No. 59219

Cherry Red Complete Adhesive Bushboards Cherry Red jointing compound is the new solution to worksurface jointing, designed to bond joints, mount and seam worktops, splashbacks, upstands and to seal cut-outs. Colour matched to suit Bushboards Prima, Omega and...

Our Price: £27.25 inc. VAT Quick Ref No. 57105

Chestnut Complete Adhesive Bushboards Chestnut jointing compound is the new solution to worksurface jointing, designed to bond joints, mount and seam worktops, splashbacks, upstands and to seal cut-outs. Colour matched to suit Bushboards Prima, Omega and Ody...

Our Price: £27.25 inc. VAT Quick Ref No. 57099

Chocolate Complete Adhesive Bushboards Chocolate jointing compound is the new solution to worksurface jointing, designed to bond joints, mount and seam worktops, splashbacks, upstands and to seal cut-outs. Colour matched to suit Bushboards Prima, Omega and O...

Our Price: £27.25 inc. VAT Quick Ref No. 57100

Emerald Complete Adhesive Bushboards Emerald jointing compound is the new solution to worksurface jointing, designed to bond joints, mount and seam worktops, splashbacks, upstands and to seal cut-outs. Colour matched to suit Bushboards Prima, Omega, Nuance a...

Our Price: £27.25 inc. VAT Quick Ref No. 59220

Fudge Complete Adhesive Bushboards Fudge jointing compound is the new solution to worksurface jointing, designed to bond joints, mount and seam worktops, splashbacks upstands and to seal cut-outs. Colour matched to suit Bushboards Prima, Omega and Odyssey ...

Our Price: £14.99 inc. VAT Quick Ref No. 66905

Fudge Complete Adhesive Bushboards Fudge jointing compound is the new solution to worksurface jointing, designed to bond joints, mount and seam worktops, splashbacks, upstands and to seal cut-outs. Colour matched to suit Bushboards Prima, Omega and Odyssey w...

Our Price: £27.25 inc. VAT Quick Ref No. 57096

Ice White Complete Adhesive Bushboards Ice White jointing compound is the new solution to worksurface jointing, designed to bond joints, mount and seam worktops, splashbacks, upstands and to seal cut-outs. Colour matched to suit Bushboards Prima, Omega and O...

Our Price: £27.25 inc. VAT Quick Ref No. 57092




Next Page